The #1 struggle for my clients, and the average person, is…
eating nourishing foods consistently. At the heart of this struggle is time – more precisely – not enough time, to plan ahead and consistently have the right foods on hand.
This is exactly why I've been searching for a product that was:
CLEAN:

low sugar, non GMO, gluten-free, organic, ideally vegan 

PORTABLE:

empowering busy people like yourself to still be properly nourished when on the go
NUTRIENT-DENSE:

contains whole foods, and good amounts of healthy fats, fibre, moderate protein, and low in carbs.
Enter EVOLV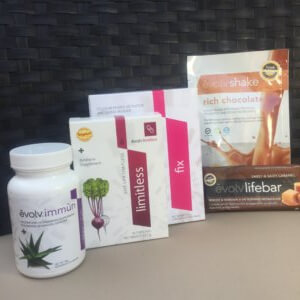 As a health practitioner I have access to numerous companies who sell quality products. So why am I heralding EVOLV?
Well, no other company has come close to achieving EVOLV's simplistic, science-driven, and socially conscious business model! 
Here are my Top 3 reasons for wanting to introduce you to this company:
1. Unlike so many of their competitors, who offer countless products, this company likes to keep KEEP IT SIMPLE with merely a handful of products. Sometimes less is more.
I remember the first time I walked into a health food store. I stood there, bewildered, looking at the aisles of products, most of which were completely foreign to me. Asking someone for assistance seemed pointless, because there's no way he or she could know everything about every product on those shelves! Same applies to drug stores.
With EVOLV there are 4 standard products, so I am well-informed on each one of them to help you decide which are right for you in a flash!
2. EVOLV products are so much more than just another weight loss product. They address the root cause of so many diseases and conditions we associate with aging; silent inflammation, which begins in the gut. Their products are revolutionary…packing a powerful nutritional punch, low sugar/low carb while also simultaneously supporting digestive health and building healthy gut flora! And if you don't know it yet, your gut and the trillions of bacteria that reside there are command central for vibrant health! No other company on the planet can match this level of functional nutrition.
3. Finally, I LOVE that EVOLV is a social business on a mission to eradicate global childhood malnutrition. For every serving you buy, an equal number of servings of whole food, nutritional support goes to children in need. Keeping yourself healthy while helping malnourished children…now THAT'S something to feel good about! 
Here's a short video explaining the science of obesity and fatigue, and how EVOLV combines superior nutrition with the most powerful molecules in nature to reboot your health. 
Whether you'd like a full system reboot, clean, natural nutrition for busy days, or something in between, EVOLV has you covered.
If any of this resonates with you, let's talk! Send me a message here, and we can set up a time to chat.