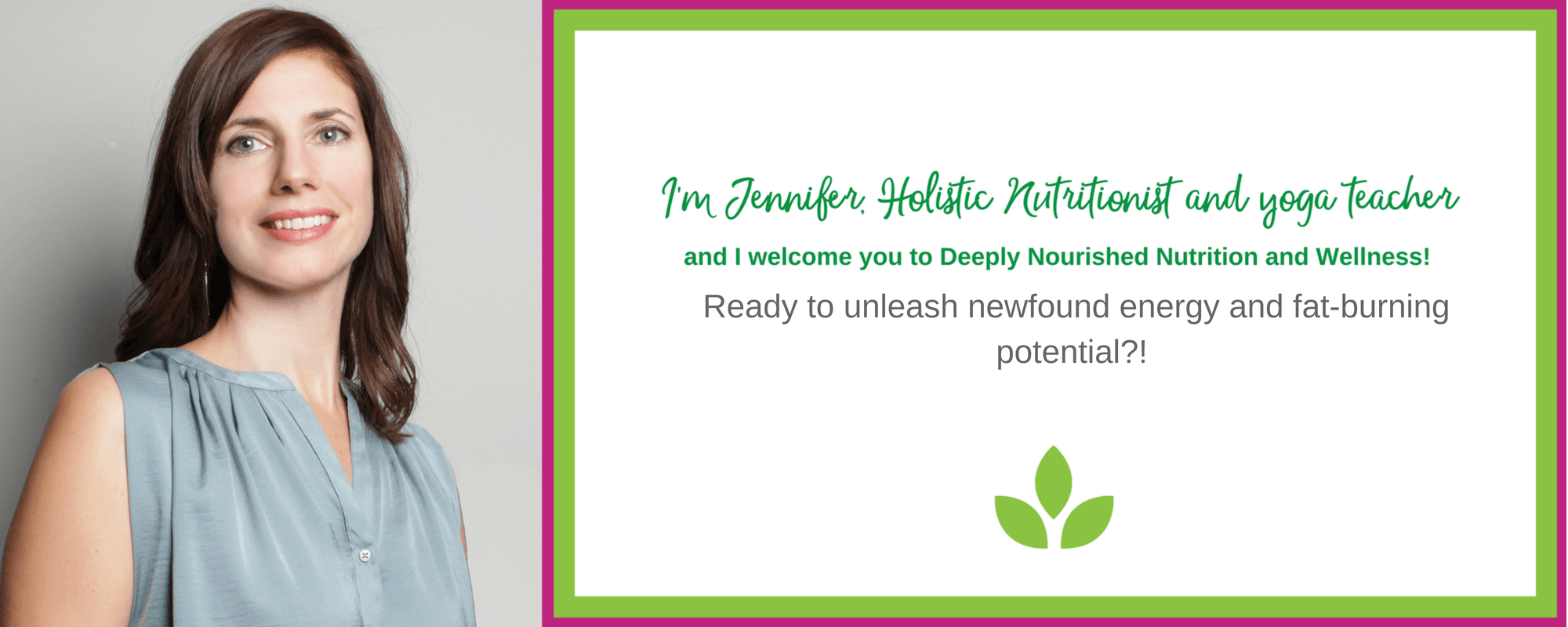 I'm on a mission to help frustrated mid-lifers ditch dieting for good AND kick their metabolism into high gear!
How to finally escape your weight woes

…
You've probably blamed your hormones, age, or slow metabolism for your stubborn weight and low energy, and you're partially correct! BUT, upstream from hormonal or metabolic dysfunction is…drum roll please…gut dysfunction. 
Science has clearly established that without a thriving community of healthy gut microbes (known as your microbiome) and the ability to properly break down the food you eat, your cells cannot function as they should. More on that here.
I get my clients healthy so they CAN lose weight…not the other way around. 
So listen up! It's time to ditch unsustainable diets and give your gut a tune-up instead!
You CAN lose weight and feel great for good. No calorie counting, weighing, or giving up certain food groups forever.
Here at Deeply Nourished, it's not all green smoothies with no room for wine and chocolate (because that would be dreadful!).  And you don't have to exercise like a pro-athlete either. 
My secret sauce? Simple, delicious foods which love up your gut rather than irritate it. 
Let's get started…    
I'm going to help you revitalize your digestive tract so your body can actually use the nutrients in the food you eat! Download my FREE E-BOOK below!
My constipation issue is resolved, my indigestion improved, I was able to identify food intolérances, allergies and feel much better! I was depressed, low energy and she gave me tips on how I could deal with my issues with nutrition and exercices. We dealt with my bloating issue and I lost 15 pounds. Jennifer helped me the most that anyone ever has! I recommend anyone to contact her!
K.A. L., Gatineau, Quebec
This has been a great 2 weeks…My family has totally benefited from the change and I couldn't be more grateful. The move away from gluten, sugar, simple carbs has been surprisingly easy and everyone has noticed positive change in there physical and mental well being. Thank you for the meal plans, techniques, food combinations and the positive support emails.
D GHEZZI, Ottawa
As someone with a history of a clinical eating disorder, I was hesitant to work with a nutritionist for fear of exacerbating symptoms or derailing my recovery process. Jenn was very open, receptive and understanding of my concerns, and worked with me to outline a path to more wholesome eating that we were both comfortable with. Through her guidance, I developed better eating habits, regained a great deal of energy, and began a new way of exercise that felt more in tune with my body's needs. Even after our sessions, Jenn has continued to follow-up to see how I am doing, and she always provides thoughtful and comprehensive answers to any of the questions I send her way. I'm grateful for her support.
K.B. Ottawa